Welcome to Huntley
A growing, family-friendly community in the Chicago suburbs

The charming, friendly neighborhood of Huntley, Illinois is home to 26,000 residents and is still growing. Once a small town, this vibrant district has been expanding over the last decade. Bustling streets, "Mom and Pop" dining options, and beautiful green spaces make Huntley a great place to raise a family and unwind from the pressures of city life.
What to Love
– Dozens of unique, family-owned businesses and restaurants
– Strong sense of community with friendly and supportive neighbors
– Recognized as one of the safest communities and best places to live for families
Local Lifestyle
Residents of Huntley are a welcoming and friendly bunch. Huntley is one of the safest places to live in Illinois and makes for a wonderful, suburban place to raise a family. Featuring an excellent school system, endless parks to explore and play, and highly anticipated annual events, Huntley is an up-and-coming community that deserves a spot on the map of the most charming places to live. Families, retirees, and commuters make up the majority of Huntley's demographics, and the area has a diverse residential neighborhood. Find classic architectural single homes, upscale condos, or newly constructed apartment buildings in the beautiful village of Huntley.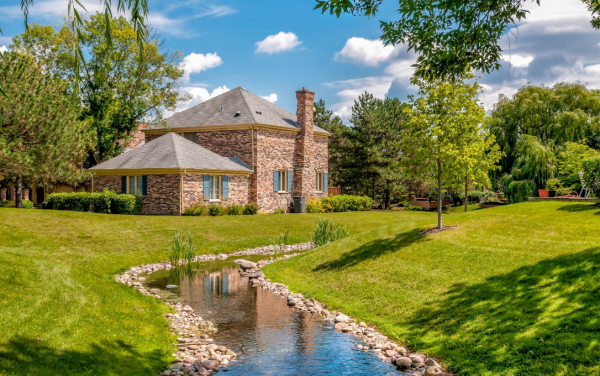 Dining, Entertainment, and Shopping
Huntley Dairy Mart is a unique and beloved spot in Huntley. Located along Route 47, the Dairy Mart looks like it was taken straight out of the 1950s. The building boasts a bright-red facade with a retro metal sign, and its menu offers affordable prices. It's a favorite place for burgers and fries, fish sandwiches, and hotdogs, and don't forget their famous ice cream and slushies! They're open daily from 9:00 a.m. through 9:00 p.m.
If you're looking for something slightly more modern, Pub 47 is a casual neighborhood bar and grill also located along Route 47. They offer a welcoming atmosphere, excellent service, and a menu that exceeds expectations. Traditional fares include burgers, steak, pasta, and pizza, and each dish is made to order with only the best, quality ingredients. It's the perfect spot to grab food with friends and family and relax.
Manny's Gelato offers 22 different flavors of gelato made fresh every day. This family-owned business also serves sorbetto and a new vegan option made with coconut milk, along with a full coffee bar. If you're hungry, don't worry – they even have sandwich options and a delicious breakfast!
A trip to Huntley wouldn't be complete without stopping by Morkes Chocolates. With a history of chocolate making going all the way back to 1920, this business makes its chocolate concoctions from scratch with all-natural chocolate and quality ingredients. Their chocolates feature cream centers, such as vanilla, caramel, maple, butter, orange, and raspberry, and they are always testing new recipes to make their creations even more exciting and innovative! The shop atmosphere is very "kid in a candy store" and Morkes' mission is to make sure every customer leaves with a happy palate. Some of their creations include beautiful gift boxes, caramel apples, homemade brittles, and chocolate-covered strawberries.
Things to Do
Huntley Fall Fest has been an ongoing tradition for 16 years. The festival is run entirely by volunteers with the purpose of generating funds for future Huntley projects. The four-day festival features dozens of food and business vendors, a full carnival with rides, a beer garden, live music, and a fireworks show on the last night. The event is family-friendly and provides fall activities for children, including hayrides, a petting zoo, and a highly competitive ice cream eating contest. Fun for the whole community, the Huntley Fall Fest is the "can't-miss" event of the year!
Each year on Veteran's Day, Culver's Restaurant hosts the annual Culver's of Huntley Veteran's Event. Here, 11% of the proceeds from the event are donated to VetsRoll, a non-profit organization based out of Wisconsin. Local veterans are presented with a ceremony in their honor, and attendees are encouraged to wear 1940s-era clothing. The event is held each year at Deicke Park.
A Very Merry Huntley Festival brings festive cheer to Huntley residents on a Friday and Saturday evening in December. Here, the Kris Kringle Market offers unique gifts, Mrs. Claus and a few of Santa's reindeer are ready to meet the little ones, and you can enjoy free hot chocolate and s'mores. The festival encourages everyone in Huntley to participate in their tree decorating contest and purchase raffle tickets for the library gift basket fundraiser. Saturday's activities include a farmers market and craft fair, a cookie walk, and a special concert featuring the local MerryMakers handbell choir. Santa arrives in the evening right before the concluding fireworks show.
Named as one of the best parks in McHenry County, Deicke Park is 28-acres of fun in the outdoors. The Discovery Zone play center is ADA accessible for young children and provides a gated, inclusive space for children to play. There's a huge sandpit, several basketball hoops, and town-themed structures to play on. The park also features adult swings, so you can play with your kids! The area also hosts events throughout the year.
Work With Us
We work extremely hard to serve our clients' needs with the utmost integrity, professionalism, and enthusiasm. I'm sure that you are looking for a team with that level of commitment toward superior customer service!